"I like to dream and try to make my dreams come true."
My name is Ioannis (Yiannis) Chatzis and I am teacher in high school education since 2001.
I was born in September 1969, lived and grew up in Messolonghi.
I graduated from the Physics Department of the University of Patras in 1992
and in 2008 I received my Master's Degree from the University of Athens,
entitled "Information and Communication Technologies for Education".
In addition, I studied PC programmer and in 1997 I received Vocational Degree from Secondary Technical School.
At the Technological Educational Institution of Messolonghi,
I worked from October 1997 until August 2001 as manager of library automation system and its computer network,
having participated in the design and implementation of various research and development projects.
Also from September 2008 until August 2010 I worked at Network Operations Center
having tasks of web sites and applications manager and supporting synchronous and asynchronous learning systems.
Αlso as an Associate Lecturer since 1996 until 2011 Ι have taught courses on computer science.
I have taught from October 1994 until June 2002 and from October 2004 until February 2006
at Public Institute of Vocational Training in Messolonghi, Agrinio and Amfissa.
From November 2013 until September 2016 I was the Principal at Public Institute of Vocational Training in Agrinio/Greece (view summary report).
Then until today I am the Principal at Public Institute of Vocational Training in Messolonghi/Greece (visit website).
My research interests are in the areas of Web Based Education, Databases, Internet Technologies and Applications.
Furthermore I like creating web sites and applications and my hobby is computer graphics design.
In October 2010 my research interest has focused on Bioinformatics applications
and started at the Department of Pharmacy of the University of Patras my PhD studies
on the developing applications for recording and analysis of biomedical data
and in particular in data visualization and data mining.
My latest works on biological daabases.

If you would like to see more about my work, you can see my latest PHd project
Article details: Current Bioinformatics, Vol. 12, 2017. DOI: 10.2174/1574893612666170711153356.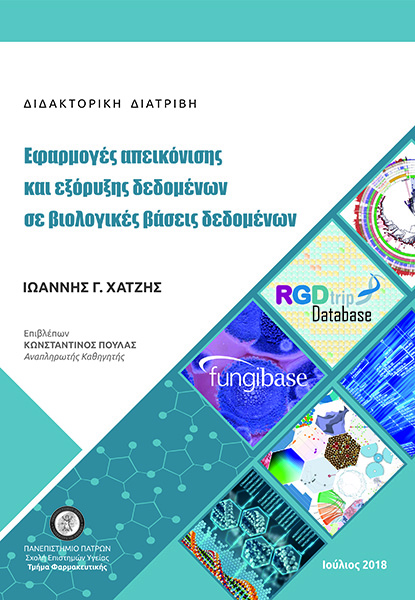 If you would like to contact me, please send me an email at yhatzis@sch.gr